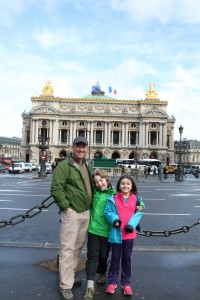 Travel's a humbler. Just when you think you've got it all figured out, that you know which train leaves from which platform, which color gas pump dispenses diesel, and which cheek to lead with when doling out the compulsory French air kisses, well, that's when some random grandma in the post office slaps you in the grill for playing Post Office. Sorry, ma'am – thought I knew you.
Of course, I'm speaking metaphorically here, though lord knows I've regularly made an ass of myself with the whole air kissing thing. You really are supposed to lead with different cheeks depending on where you are in the country, though it's important to remember that they are always face cheeks (and no, I haven't made that particular mistake yet, though I sense the reader's lack of confidence here).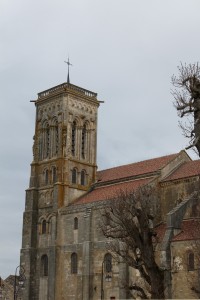 I'm never sure how well I need to know someone before I throw down with les bisous (French for the aforementioned air-kissies; apparently passing acquaintances work if you haven't seen them for a couple weeks), how much lip contact you make on ye olde cheek (zip, zilch, nada), and how loud a smack you're supposed to make when getting smoochy with the atmosphere (apparently not the Miss Piggy-esque lip fart I've been known to blast into unsuspecting ears). Throw in my lack of confidence on the question of cheek contact and you'll understand why most social situations find me quavering under the buffet table, rocking back and forth while hugging my knees.
The metaphorical Grandma-in-the-Grill this time around, however, had nothing to do with air-kissing and everything to do with just workaday, boneheaded travel planning. We'd been looking forward to the arrival of Kristanne's parents for months now, laying in plans for how to pick them up in Paris, where to break their spirit on the trip back to Grenoble, and how we could ride 'em hard and put 'em away wet for the duration of their stay. We've also started wondering whether this approach to visitors is possibly why we haven't had more of them during our previous nine months here. Food for thought, food for thought.
As luck would have it, my college buddy, Daryl, would be in Paris with his family  at roughly the same time we needed to pick up Calvin and Rosalie, which gave us what I'll cautiously refer to as the Perfect Storm of Parisian Portent, as well as an opportunity to make a long weekend of it in the French capital. That's Daryl & his lovely wife Susan, catching a break in the D'Orsay museum while our children share terror tales with their children about how long their parents typically make them stay in art museums.
We decided to take the train north rather than drive, opting for the speed and ease of train travel over the charm of frequent tolls and hole-in-the-floor toilets (we saved those for the return trip via a rented car large enough to host Four Heatons and Two Bohners…possibly also our new band name, though we could also go with Three Jacks and Three Jills).
European train travel is indeed extremely convenient…all the more so when you actually catch your train. Subtle foreshadowing, I know – I have a hammer over here I'll use to hit you over the head with a bit later on.
We started out with the best of intentions, buying our tickets from Grenoble to Paris months in advance. Heck, we even sprang for first class, what with the generous early-bird discount and all. Hotels were lined up in Paris (our home-away-from-not-quite-home in Paris, the Hotel Marignan) and in Vezelay for the return trip. Plans were planned and schemes were schemed, but before any of them could be realized, we had to make it to the train station.
And we would have, too, were it not for those meddling passports. We were about three bus stops removed from our apartment when the mental checklists we ceaselessly check and recheck during any departure from our apartment expected to last longer than five minutes turned up an exposure – I'd neglected to pack our passports. I say "I" in this case mainly because my initial attempts to blame our loaner cat, Vegas, appeared to fall on deaf ears. What the hell are loaner cats good for if not to take the fall for their temporary owners' blunders? In all fairness, passport packing is always on my punchlist and I had not punched  it, though I did kinda feel like punching something now. Where'd you go, Vegas?
Strictly speaking, our lack of passports was not a deal breaker. Most French hotels don't ask for them anymore and I'd rented cars without being asked for them, as well. So, we could have gambled we wouldn't need them and just carried forward with plenty of time to make our train. Of course, the attendant mental anguish generated by taking a trip with the full foreknowledge that the entire thing could be completely scuttled by a fatal mistake made during the first fateful moments of our voyage would likely reduce us to psychological rubble more quickly than an Incorrectly Kissed Grandma…there was also that to consider.
Unsettled but unshaken, we formulated a plan – I would take the bus back, snatch the passports, and meet the family at the train station. There, they'd have already picked up our previously-purchased tickets from an Extremely Convenient e-ticket kiosk and we'd all hop the first thing smoking to Paris with no time to spare.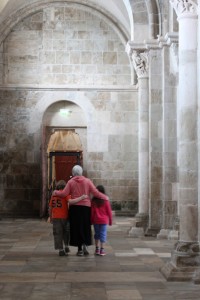 It was a good plan, and it would have worked, too, except, well, I didn't quite make it to the train station in time and Kristanne didn't quite pick up the train tickets. Aside from those two minor nits, the plan was otherwise a smashing, foolproof success.
I sprinted into the station, breathless, only to see my train just beginning its inexorable roll to Paris. I didn't know whether Kristanne and the kids were on it. The last I'd heard of her on my cell phone as my tram arrived at the station was her pleading with the conductor, "Mon marie est arrive' maintenant….attend, attend." I was suitably convinced by these words that the train should wait, but unfortunately, the conductor did not share my conviction. He was, however, kind enough to inform me that the family had opted not to get on the train and had just left the platform.
As it turned out, the only way to pick up tickets purchased over the Internet is with the exact card used to purchase them. Since it turned out that that particular card was in my particular possession, Kristanne was, as they almost never say in France, completely hosed. She could show them photo ID, a printed itinerary with all of our ticket numbers, and an email from the train company with little images of our tickets on them, but she could not actually pick those tickets up. She could see our tickets on the ticket agent's computer screen, advise that ticket agent of her eminent trustworthiness, but she could not convince that ticket agent to release them. She could repeatedly point out how insane it was to deprive a mother and her two children of their rightfully-purchased train tickets when said train was just about to leave the station, but all to no avail. Heck, she could even yell at that ticket agent, demand to see a supervisor, and then yell at him for a bit, too, but none of it did a lick of good. Time to reboot.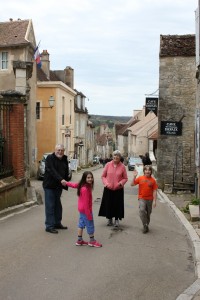 The good news is that there's more than one train to Paris and if you're willing to apply money and time (or, really, just money) to any problem, well, they all typically improve. New tickets were procured and we were soon on our way to Paris, just a few hours behind schedule.
When we arrived in Paris, it was still observably Paris and that's enough to make any Extreme Telecommuter drop whatever axes they were previously grinding, grudges they were previously holding, or crosses they were previously bearing and focus on what's in front of them. I trust I'll neither strain credulity nor dazzle with insight when I point out that Paris is Paris, an enervating city of unending wonder that never fails to bring the boom, culturally speaking.
We've been fortunate enough to stay in Paris several times over the last few years, each time hanging our hat in the redoubtable Hotel Marignan in the Latin Quarter. Both experientially and budgetarily, it's just a few ticks north of a hostel, with clean rooms, private bathrooms, and a no-frills breakfast. For families and cost-conscious travelers, it's perfect, with everything you do need and nothing you don't. The location is central and it caters to an extremely international clientele, with plenty of different accents to decipher and new people to meet over your breakfast baguette, nutella, and coffee. Really, if I could add just one thing, it would be a #$@%@ lift, especially if we're going to be on the fifth floor again next time.
Holy mother of quadriceps was that ever a shlep, even with the relative economy of our weekend luggage. Fortunately, it was a spiral staircase, too, so in addition to failing leg muscles, we were all vaguely nauseous to boot. But very little in Paris checks in south of $200 euros a month for a family of four, so you pays your money and you takes your chances. And you rubs in your BenGay balm. Plus, the mildly hallucinogenic effect of severe oxygen deprivation can be really entertaining as kids randomly disappear from one part of a room and appear in another, as in the photo below.
Paris was a whirlwind, but an immensely enoyable one. Crepes with Daryl & his family in the Marais. A taxicab driver who, though born in Paris, was dumbfounded by our requests to go to the Cluny Museum, Latin Quarter, or Notre Dame, insisting instead that the best route was probably to go to the airport and start from there with his bearings fresh, maybe throw in several laps around the Eiffel Tower along the way for good measure. Apparently, we looked like a College Fund instead of a Budget-Conscious Family to this guy. For her part, Kristanne was having none of it, forcing him to pull over so she could show him both our map and the whites of our increasingly enraged eyes. "Ahhhhh," he exclaimed…."That Latin Quarter, across from that Notre Dame…I see!"
We knocked out the Louvre, Eiffel Tower, Notre Dame, and Versailles on previous visits, so this time, we hit the Opera, Arc de Triomphe, and Musee d'Orsay, picking 'em up and putting 'em down, touristically speaking. The pace was fast, but we were a well-oiled machine, running on equal parts espresso and gelato. Good fuel, that.
Up with the sun and gone with the wind, we hit Charles de Gaulle with an air of purpose – get Ama & Poppie. Get Ama & Poppie. Get Ama & Poppie. We've all missed family and friends during the nine months we've been here, so a visit from Kristanne's parents was just the treat we were looking for. Despite having been super sick the evening before, Kinsey rallied big time and rolled her suitcase onto the RER train and off to the airport, where the kids stood a vigil at the exit from Customs, waiting for their grandparents to appear. Perhaps the cans of refried beans we enticed them to smuggle carry to France caused them issues, or perhaps the Customs agents were just in the mood for some really excellent conversation and held them extra long, but the kids had a long wait before Ama & Poppie came through the doors, ready for hugs and to hit the road. We were only too happy to oblige. The rental car was raring to go and so were we, so we pointed the wheels southeast, bound for our long-reserved hotel rooms in the pilgrimage town of Vezelay and its UNESCO-endorsed basilica.
I bet those long-reserved hotel rooms were just awesome back in March, which is the date for which we'd apparently reserved them. Spacious, I imagine, with plenty of Gallic conviviality and possibly even free hors d'oeuvres and ponies and maybe even complementary hairpieces for bald Dads….probably those were the specials they were running in March. Seeing as how it was now April, however, and we had no reservation whatsoever, well, the sweetness ran out of the proverbial pot a bit. No ponies, no hors d'oeuvres, and definitely no hair, as the innkeeper possibly patiently explained to me in French.
I'm still not entirely sure how we managed to do it – possibly it was because of the way Europeans invert dates, writing them DD/MM/YYYY instead of what I'll defensively refer to as the "correct" way, or possibly it was a browser cookie issue, or it could even have been subtle neurological aftershocks resulting from North Korean saber-rattling. Those all make sense. Or, just possibly, it could even have been what appears to be your leader in the clubhouse opinion – Dad screwed it up. On the bright side, however, I must hasten to point out that I emphatically did not kiss any random Grandmas during the trip home, so it's a bit of a net win, all told.
Besides, our hotel hadn't charged us back in March and still had plenty of room here in April. Throw in some fresh-baked croissants for breakfast and I'll miss a few more trains, kiss a few more grandmas, and maybe even walk up five spiral flights of stairs, sans complaint – throw in the fresh croissants and I'm your guy.
My shrift grows short – suffice it to say that both Vezelay and its fellow Burgundian UNESCO site, Fontenay, were gorgeous, particularly in a welcome spate of Spring weather. We even got a little unscheduled ploo-blowage in Semur before finally making it back to G-Town in time for dinner. Ama & Poppie are now ready to face the bakers of France and whatever other challenges we can muster.
See you next time on the Odyssey as we head to Genoa, Venice, and Nice for Spring Break. Can't wait to snag some jello shots on the beach in the Cote d'Azur!